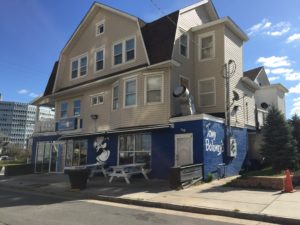 Tony Boloney's hailing from Atlantic City, NJ , but for how long?
Hey , ya gotta know.  Went by Tony Boloneys Pizza, Subs , and Grub place at300 Oriental Ave., Atlantic City, NJ  .  Reluctantly, buy Daylight hours only.
Unbelievable, actually believable, the Pizza and Sub place was closed and boarded up.  I gotta say, in absolutely deplorable condition.
No home improvement guy here, but not blind either.  Ya gotta know, expand the picture , boarded up front door with scrap plywood and a blue tarp.  Ewwwwwww.  Broken down and dilapidated planter and weeds growing rampantly everywhere. No maintenance here where you  can see.  OK, the real question is what's the condition and cleanliness of kitchen that you do not see?
Then ya got broken windows on the second floor.  Not to mention the boarded up and metal grated windows of second floor.  Very high crime area here.  Beware numerous murders in neighborhood recently.
Well heck , why not?  Neighborhood is hundreds, if not thousands, of vacant lots and empty buildings occupied illegally by squatters and vagrants, all contributing to the crime in the area.
In addition to management and maintenance issues, there is an active   Boycott of Tony Boloneys in Atlantic City and Hoboken, NJ .  And you all know that I fully support the Boycott.   See previous posts as to why.
Without regard for the Boycott, just considering the deplorable condition of the Atlantic City pizza and sub joint it appears that Tony Boloneys could be another casualty of Atlantic City, NJ   But, oh yeah, in this case it would be due to their own demise.
Needless to say, but I will.  I will not be eating at Tony Boloneys in Atlantic City or Hoboken , NJ .
BOYCOTT TONY BOLONEY'S .  Oh yes indeed!!!
Read more about the boycott of Tony Boloney's  at www.estaterape.com
Read more about Elder Abuse by Gregory Hauke at www.elderabusewiki.com